I'm going to go ahead and admit up front... I did not like this first try.
Now let me get into the process. :)
I first started by trying to prep the hair. There was a story behind this. I originally bought the
Bobbi Boss Bomba Locs
from online and while the package did arrive, it was stuck at the front office and because it was a holiday weekend... the office decided to close down early.... with my package stuck inside..... I mean they're totally entitled to do whatever they wanna do but... you know...
So I rushed to a beauty supply store on my way home from work and ended up purchasing a brand called
Foxxy Dreadlocks
.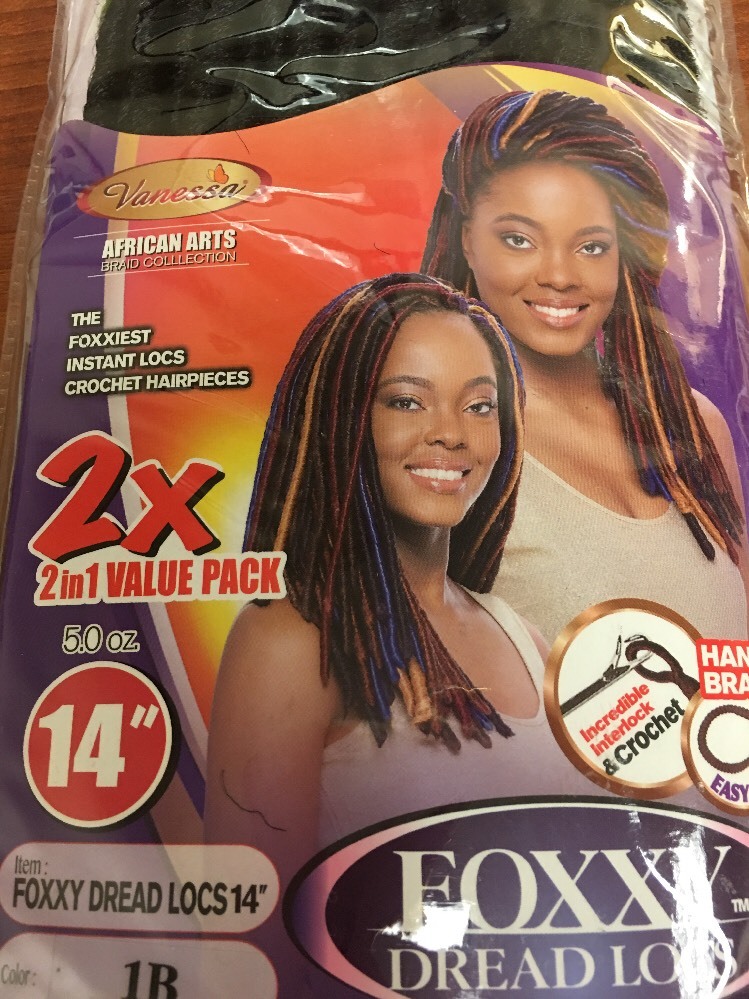 It was $4.99 a pack (so a dollar more for each than the Bobbi Boss) and I ended up with about 7 packs of black and 1 pack of a brown that I didn't even use and don't plan to.
I got the packs and I thought they were just too shiny and synthetic looking so I decided to soak them in an ACV/Water mixture to kind of take that away for a minute.
While those were left to soak, that's when I went in and did my wash day and all that jazz. By the time I had applied my clay, that's when I went back into the kitchen to rinse and squeeze the water mixture out of the dreads and lay them flat on a towel to let them dry as much as they could while I continued with wash day.
After leaving the deep conditioner in for about an hour or so, I, of course, left that in, and then on top of that used my
Qhemet Biologics Amla and Olive Oil Heavy Cream
to put in my cornrows.
I didn't take a picture of the braid pattern because I was so upset with it. But... in my best explanation, basically the front perimeter by my edges and the back perimeter by my nape were left out. The middle was crocheted in medium-sized braids straight back, and the braids were also braided into each other to make for one gigantic dinosaur braid in the middle...
And that was where I failed.
Perhaps I underestimated the thickness and length of my hair in cornrows...?
Anyways, I had already spent a great deal of time on prepping so I was going to continue no matter what.
One loc by loc, I attached them to the braids. Before I even got halfway, I just knew I wasn't going to be in love with the finished results...
You get a pretty good idea of the braid pattern here...
The front was probably the best part (and realization) of the whole ordeal! I had seen a video of someone who had found a way to attach the loc to individual sections of the hair instead of to a whole braid.
So the way I did it was to first take small sections of my hair and then I, of course moisturized the section. I then braid that section, not cornrowed, braided the section about 1/2 an inch down and then proceeded to twist the rest of the way down.
Then I took the crochet needle, inserted it at the base of the braid/twist and then attached the crochet loc as normal.
Once the crochet loc was looped through and attached, then I un-coiled the loc and began coiling it around my twist. When at the end, all I did was let go and the crochet loc wrapped my hair inside and you really couldn't see anything! I was very proud of that moment. :)
Now.
As for the finished product, because of that
GIGANTIC DINOSAUR BRAID
in the center of my hair, it left a very unshapely and unnatural look to the hair when left down. Plus, I didn't leave out enough hair to cover the crochet braids and.. overall, it was just a pure mess.
Everybody has to fail right? =/
I wore this for all of a week, and this was the only way I could wear it...
Yeah. Overall, I like the potential of the style but I don't like this trial. I feel like a few things need to be tweaked, one being to do my cornrows on dry stretched hair rather than damp shrunken (well, KINDA shrunken) hair. Also, I have a weaving needle and thread so I will be able to weave my ends in
correctly
before installing the locs as well. And I also think I might just do individuals instead of doing crochet braids anyway.
When my hair is growing, my scalp itches like crazy! I can't tell you how annoying it was that week to NOT be able to scratch certain spots on my head due to all of the interconnected braids in the way lol. And I have naturally long and sharp nails, so doing that direct hit was just calling for scarring the scalp. My also could've been itching because of the synthetic fibers of the hair... that could be it to. Regardless of why it was itching, I could not
scratch it
. And THAT was the problem lol.
So I think this time around when I do get to it, I'll probably do the whole "braid 0.5 an inch down and twist the rest of the way. It'll be like putting in a set of medium twists but... whatever. That's if I even plan on doing that again too.
Overall, so far it's a thumbs down. But maybe this second run around will be the savior. But I'm not really impressed.
And if you're asking me to compare them to my genie locs? No competition. Still my genie locs hands down!
But until next time,
♥ Keep calm 'n coily ♥
Mskraizy