Wow...it's been a year since my last post.
And I feel like not documenting my hair journey has led me to not keep up with my hair the way that I used to. Honestly, the past year has had more ups and downs and side detours than I could ever expect to happen within a year. Lots of people have fallen out of my life... whether just in distance or death. Moving, different careers...
Really though, the more major changes have been internally...my mindset and views on things have changed. My expectations of past situations are slowly but surely no longer as big of a concern as they used to be. Finally getting to a place where I can learn to let go of things (and people) who don't want to be held onto...you know?
Among many of those changes, I recently have moved out on my own and in a different city. I'm determined to make a fresh new foundation...have a new outlook on life...and attempt to have a different way of things. I'm trying to learn how to accept in my life what I want and need to accept in my life, things that will help me grow positively...keep me on fire about all of these ambitions that I have lol. Over the year, I've definitely become a woman of many dreams. But this year and onward, I want to be a woman of many achievements, you feel me?
I figure that the best way to learn to commit to this new me is to go back and finish these several journeys that I started back and some of the main ones that come to mind is growing my hair to classic length stretched and getting in shape.
So recently (maybe about a month ago) I started back on my fitness journey and I'm starting to see results even within a month's time of taking it more seriously. I thought it was time to step up my hair care routine as well...
I should note that for a couple years now, my hair has NOT had a stable, consistent regimen. I was trying to get one in place, ANY regimen, but with everything going on around me, my hair regimen had to change as often as my days did. Now that I'm able to have a 'little' consistent routine... I figured it was time to try and figure one out... again.
I feel like I am definitely starting from square one again as far as "getting to know my hair" goes. I have to relearn it's structure, what it's like to style it...how long it takes to DRYYYYYY (totally forgot about that one lol). What products my hair responds too, what routines produce optimum results, I literally have to learn to love my natural hair again.
Womp.
Because for the past, at least two years, my hair has been...neglected. No consistency, deep conditioning treatments were RARE, more heat styling than normal and LOADS of trimming. My hair length is basically still the same length it was the last time I posted a length check honestly...actually, it's SHORTER. Just the other day I decided to attempt to trim layers into my hair going by this method...
FusionofCultures
is by far one of my favorite Youtubers along with some others. One reason is because the shape of her hair is beautiful!!! So I attempted this and...while I have not wore my hair out yet to see if the layering actually is noticeable (I didn't hack off as much as she did but it was still more than I was accustomed to), when I finished it, the aftermath looked like it was pretty bomb. :)
Trimming // Cutting is about the only "dramatic" thing I will do to my hair these days... I'm still too chicken to color it. I'm not even sure if I want to color it anymore. I just want it to be healthy right now, healthy and cute. I guess that's why hacking off all that hair didn't make my heart skip that much if at all. =/ Miiiiiiiight need to hide those scissors though lol.
I'm starting a new "regimen" piecing together things that worked for me before. About the only product from my previous regimen that I still use is ORS Replenishing Conditioner lol. I've been using that deep conditioner since I went NATURAL and that was liiiiiiiiiiiiiike 7 years ago?!?!?!?!?! Yep, still my long lasting deep conditioner.
So far, the products that I use have to be re-learned. I do know my hair loves Trader Joes Nourishing Spa Conditioner (and it's cheap though the drive to get is not lol, I'm literally an HOUR or more from a Trader Joes that I know of lol), I love that conditioner and I also love that Trader Joes Tingling Shampoo. So, sometime soon, I'll be heading over there to stock up on some conditioners at least. I still have a full bottle of the shampoo.
That's another thing, I haven't really been shampooing my hair...honestly, I don't know what I've been doing. I'm going to start this "creating a regimen" thing by first taking a wash routine that I feel will work for me most and building around it from there, taking and leaving what my hair likes and doesn't like.
So, the regimen I'm going to be copying for a month or so is going to be
JourneytoWaistLength's
wash and go routine. I suppose this is only a regimen she does for her wash and go because she has a completely different video for her actual "wash day".
Because I do know a little about my hair, I remember how much my hair thrives with water. So I figured, a water-based regimen was probably best to start out with. And since I'm trying to get this "maximum hydration" thing going and get my curls clumping and whatnot and also trying to maintain a workout regimen as well, I figured a type of "wash and go" regimen would be best to start with for my hair (plus her curls are gorgeous!!!!).
So I'll tell ya what I did the other day just to bump you up to speed about what state my hair is in now...
I had "havana twists" in my hair for about two weeks... looking scruffy, mad rough and time to take down and start my new "Love Affair with my Natural Hair". I came home from work and took all the twists down, and then finger detangled my hair to get it all stretched out to it's maximum length.
I then proceeded to cut and trim my hair as seen in FusionofCultures video to get my layers and to get some fresh ends (and to also trim back my crazily mutated front section that for some reason has been so much longer than the rest of my hair for all these years lol).
After cutting and trimming, I then proceeded to divide my hair into four sections. I misted my hair with plain ol' water and finger detangle each section a little more thoroughly and twisted each section up (four twists now in head).
I then proceeded to mix up some BENTONITE CLAY yes I brought this back remembering how it gave me really nice curls before. My first trial with it before caused my scalp to burn viciously which is why I never attempted it again. I think I did it again and had a semi-good experience, can't really remember. But we'll just go off of this experience.
I mixed the clay only with water (and I made up a lot of it too). I took down one twist at a time and, in small sections, applied the clay generously and made sure that it coated each strand. I didn't focus much on my scalp this time and maybe this is why it didn't burn as much as it did before... still not sure. But anyways, applied the clay exactly how J2WL did and let it sit for 15 minutes before hopping in the shower to rinse without touching my hair......much.
I then applied some ORS Replenishing Conditioner (but of course!) all over my hair. Can I say the curls were POPPING!? My front section didn't look too defined. I guess in the world of the Maximum Hydration Method that means that that section hadn't reached 100% maximum hydration lol. But all my other sections were just beautifully coiled and popping. As I put in the DC, I didn't separate my hair into any sections. I just...slathered it in lol. Twisted it into 2 big chunky twists and covered with a plastic cap and my scarf and let it sit in overnight.
That next morning, I decided against rinsing out my deep conditioner (as I sometimes have used this as a "moisturizer" in the past and it did my hair very well) and went ahead and braided my hair up. I divided my wet hair into 4 sections again (curls were just POPPING y'all!). In each section, I misted my hair with some cold aloe vera juice, then sealed that in with castor oil. Divided that section in two and applied some of thiiiiis...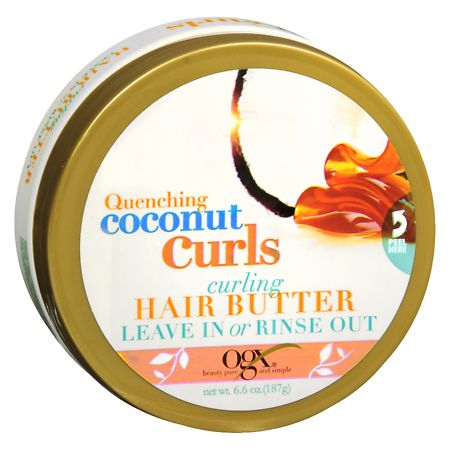 Water (Aqua) , Cyclotetrasiloxane , Paraffinum Liquidum (Mineral Oil) , Cetearyl Alcohol , Glycine Soja Oil (Soybean) , Cocos Nucifera Oil (Coconut) , Behentrimonium Methosulfate , Cyclopentasiloxane , Butyrospermum Parkii Butter (Shea) , Sorbitan Oleate , Honey , Citrus Limon Fruit Oil (Lemon) , Citrus Aurantium Dulcis Fruit Extract (Orange) , Beeswax , Polyquaternium-37 , Propylene Glycol Dicaprylate , Dicaprate , PPG-1 Trideceth-6 , Ceteareth-20 , Propylene Glycol , BHT , Diazolidinyl Urea , Iodopropynyl Butylcarbamate , Methylchloroisothiazolinone , Methylisothiazolinone , Magnesium Chloride , Magnesium Nitrate , Fragrance
Yes, I know it has mineral oil in it (which is why it was the very last product used)... But I repeated that all over and ended up with 8 chunky braids that have been drying for about 1.5 days now.
I just decided to take all my braids down and moisturize only the ends with Shea Moisture Coconut Hibiscus Curl Defining Cream or whatever and rebraid it into 6 chunkier braids that will hopefully dry for tomorrow. I'm so eager to see what my layers will look like (if they're even that noticeable... I may be trimming some more off).
So that's kind of a "catch me up" right there. I don't have any pictures that I can post right now, I know, I suck. But for some reason, I can't find my camera. I'm not sure if it got lost during the move but I haven't seen it for months now... but I will get some pictures from my next go around with this.
I'll be doing this little bentonite clay wash on a weekly basis...it'll be like my "shampooing" I guess while I'm trying to maintain my curls and moisture.
Another thing I will note is that this entire wash day, I only finger combed, even while styling my braids. Honestly, using a comb was not even necessary at all...which I'm not...really...used to lol. My hair didn't feel tangled at any time during this time after I finger detangled it with water. From there, it was all good!
So I feel like that will definitely be my weekly regimen which was basically
Separate hair into 4 sections and finger detangle with water
Do bentonite clay treatment (next time I will apply to scalp to make sure that gets cleaned as well) and leave on for 15 minutes
Rinse without touching hair, rinse til water runs clear
Apply DC all over hair and let sit overnight
Install braids and allow hair to airdry
I suppose throughout the week, I'll be back to wearing my braidouts again. I am going to make some flaxseed gel eventually... trying to keep my hair products fairly simple and natural. But flaxseed gel normally makes for great shine and definition when trying to do braids and twistouts and whatever and has great hold. I don't think I ever tried it for a wash and go, but I used to use it for braidouts a lot, I do know that.
I found a video on how to make it in the MICROWAVE. Yo, I'm about to try that...
So, you see, so far, this is what I'm starting with. Obviously, as my hair regimen grows and becomes more consistent and I start learning my hair again, I will post my new regimen and what I'll be doing. But I will be trying THIS regimen for at least a month. After that, maybe I'll venture out and start seeing what it's like to push the wash day time out (maybe do clay treatments bi-weekly), most likely I'll be testing new products, maybe I'll bring co-washing back if I actually become that "wash and go girl" again lol...we'll just have to see.
Length check will be coming up soon, possibly within a few weeks time... or maybe when I take these braids out. Yeah, I think that'll be best.
Time to get back to documenting this hair journey so we can start reaching some HAIR GOALS this year! I wonder if my hair even still grows an inch in a month?
So much I've been missing out on. =/
Welp, until next time!
♥ Keep it calm 'n coily ♥
Mskraizy