I am not one to EVER enjoy finger detangling as opposed to making one with the wide tooth comb and having at it with my coils.
SINCE my trim, I'm beginning to feel a bit differently. I really want my hair to stay at it's optimum health even if I have to make a few adjustments in my regimen. So for right now I'm tweaking a few techniqued but nothing is major.
Yesterday, I went ahead and jumped onboard the
Aloe Vera Juice
wagon. I naively went and purchased Fruit of the Earth's "Wild Berry" flavored aloe vera juice (don't even go there.....I know). I used it on my hair before I actually took a look at the ingredients.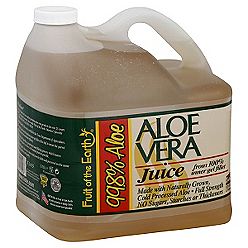 This is NOT the "Wild Berry" flavored one
I have.
INGREDIENTS
Organic Aloe Barbadensis Leaf (from concentrate), Fructose, Natural Flavors (contains Strawberry, Blueberry, Blackberry, Elderberry & Raspberry Juices), Purple Carrot Extract, Citric Acid, Sodium Benzoate (a food preservative at 1/10 of 1%).
Haaaaa, yeah. By the time I read this, my hair had already been soaked in this aloe vera 'juice' and heavily soaked with my ORS Deep Conditioner, finger detangled and covered over with two plastic bags and a bonnet. =/
Finger detangling was okay the first time, I actually didn't lose as much hair as I thought I would have. It went by surprisingly a lot easier than my previous experiences. There wasn't alot of snagging or tangling, didn't have much breakage if any honestly and it went by relatively easy. Not gonna say it was quick, but for me it was average detangling time which usually equates to somewhere around an hour.
So with the deep conditioner covered, I left it in overnight as I went to bed and in the morning, I hopped in the shower to follow my usual wash day routine. And I have to admit, after shampooing and everything with my hair completely stripped of any products, it felt GREAT. Like greater than usual I have to say. It was bouncy and soft and very shiny...sorry, no pics. =) I think I will attribute this to using the aloe vera juice.
I also did exclusively finger detangle all but one section of my head (I wash my hair in 4 sections). It was the first section I washed that I broke down and ran a comb through and was very surprised when I saw that no shedded hairs came out. So I continued to exclusively finger detangled the remaining three sections, lost little to no hairs and everything came out....I think. lol
So as I was moisturized, I also exclusively finger detangled but I did notice something from the one section I combed as opposed to the 3 that were manipulated with my fingers. The combed section had more little hairs breaking off while in the remaining 3, little to no breakage. I really didn't see anymore breakage until the very last section of my hair and it still wasn't alot.
So I think I just discovered something.
Maybe combing my hair with a shower tooth comb is causing my itty bitty breakage pieces because I was wondering where they were coming from and why they hadn't been prevented or eliminated after that dramatic trim I had. It's my COMB. My dearest and bestest comb! *GASP* Ya'll I love my wide tooth comb and denman so it's truly gonna take a minute for me to get used to finger detangling, ultimately I want to be as exclusive with finger detangling as I possibly can so that I can eliminate breakage to the best of my abilities. I realize I may not be able to prevent it 100% but hey, I'm okay with 99%. lol
Now that I know my wide tooth comb is one of the biggest culprits of my itty bitty breakage, I'm going to try and do as much finger detangling as I can and try to lay off from my denman and wide tooth comb. I'll be slowly weaning myself away from them, we're doing this for Nelly!
And as for the aloe vera juice, yes, I did it use again while moisturizing my hair. After washing it, I spritzed it thoroughly with the aloe vera juice and then coated it with my garnier leave in, finally sealed it all in with my oil mix and oiled and massaged my scalp and then really sealed my ends in oil and covered it with a satin bonnet.
I for one am not going to let this flavored aloe vera drink go to waste. It says it's 95.75% aloe vera and that's good enough for me. Shoot, it cost me $8, it's gone HAVE to be since I can't return it now. Thank you Impatience... So yeah, I would suggest using the most purest and natural form of aloe vera but if you happen to have a short attention span and don't really pay attention to many things, then the Wild Berry Flavored Aloe Vera Drink won't hurt your hair. I've used it twice and it has made my hair INCREDIBLY soft and plush. As of right now my hair feels soooooo luxurious, it's one of those things I can't even explain!
Aloe Vera Juice is supposed to give many great benefits such as
moisturizing
,
nourishment, fights dandruff, stimulates hair growth,
and many other cool benefits. If it's that good for hair, I just MIGHT start drinking it. I'm telling you, I love this wild berry flavored aloe vera juice it makes my hair smell soooooooooooooo good! Don't run out and buy it and say "Mskraizy said get it" this is just what works for me. I'm pretty sure all that sugar wouldn't be good for your hair in the long run but for right now, I'm loving it! And I don't need anymore bad smelling products. My hair can smell bad on it's own. lol I figured, if I can use vinegar in my hair, then flavored juice won't hurt. lol
Keep it Calm
and Keep it Coily!